In 1998, a local group of women from diverse Hispanic backgrounds and different countries started on a journey. They decided to start a non-profit organization to promote higher education based on volunteer participation—the Asociación Hispano-Americana de Mujeres, or as it has come to be known in our community, AHAM (Hispanic Women Association of the Upstate In South Carolina).
The organization consists of 60- 80 members under the direction of an executive committee chaired by the president, her vice president,and a treasurer. The executive committee is made up of 8 women who lead different committees: 
Cultural 

Educational

Public Relations

Marketing

Membership

Vision
To see Hispanic youth and women as an active and fundamental part of the economic and cultural development of our community through higher education and growth opportunities. 
Mission 
To grant college scholarships to students of Hispanic origin (preferably first generation) of the Upstate of South Carolina. Organize activities with the purpose of sharing the Spanish language, preserve the culture and folklore, and promote women's opportunities for growth.
Throughout the year AHAM fundraises with different social and cultural events, our main activities consist of:
Scholarship application and well-established candidate selection process.


AHAM has been at this for nearly 20 years, having substantial institutional knowledge and a documented set of procedures and best practices that ensure a fair & systematic selection process. 

Fundraiser events.


The main events of the organization are the Hispanic Heritage Festival to celebrate the Hispanic Heritage month and The Gala towards the end of the year.

Cultural and social involvement. 


AHAM participates in several events in the community such as Fall for Greenville and Artisphere. 

Non-profit to benefit the community.


AHAM partners with other non-profit agencies as Hispanic Alliance, Palmetto Luna, the Commission of Minority Affairs, the United Way, developing projects that look

for prosperity for our people.
During the COVID pandemic AHAM had the unique opportunity to directly help the Hispanic community through the distribution of food and masks. This was a partnership with United Way led by one of our members, a community leader of the Hispanic families most in need in the Upstate. We were able to provide more than 300 families with food and donations. We also delivered food to families with COVID that were not able to come and pick up the food.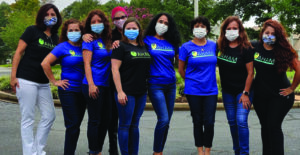 Measurable outcomes of your work to date.
AHAM has impacted the lives of more than 157 Hispanic students, and granted more than 400K in college scholarships.    
Facts:
All members and Executive community are Hispanic women coming from different Latin American countries: Colombia, Venezuela, Peru, Mexico, Panama, Honduras, and Ecuador.

All the members come together every month to discuss the progress of the organization and plan our next events. 

AHAM's members enjoy each other's company, forming a sisterhood of latin american women supporting each other towards growth. 

They have guest speakers that cover different topics. 

Also, they promote education through programs of leadership and other subjects of interest for their members. 
Find more about Hispanic-American Women's Association at:
Instagram @ahamsc
Web www.ahamsc.org